History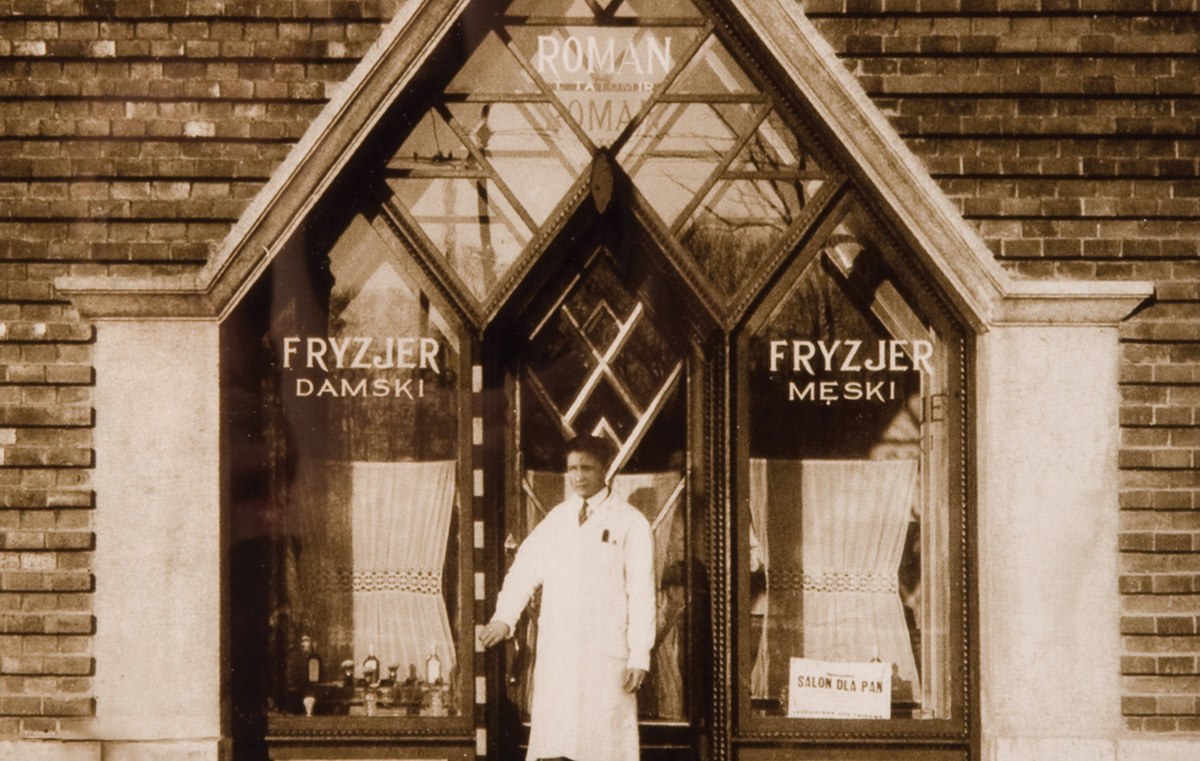 1927
Tomasz 'Roman' Tatomir in front of his salon in Cracow, Plac Inwalidów – in Poland, already freed from the communism. He was the first representative of the hairdressing Tatomir family. After having left his homeland around Lviv, he opened his own salon, which he had to leave, because he did not accept any and only Nazi clients under the Nazi's occupation.
'Roman' opens a hairdressing salon at 5 Gołębia Street. He is soon joined by Kazimiera, Adelajda Tatomir-Dyras mother (the first one on the right) as an apprentice. She works here until 1968 when she starts her own hairdressing salon, together with her sister Stanisława. Kazimiera retires at the beginning of 2000, leaving many regular and satisfied clients.
1948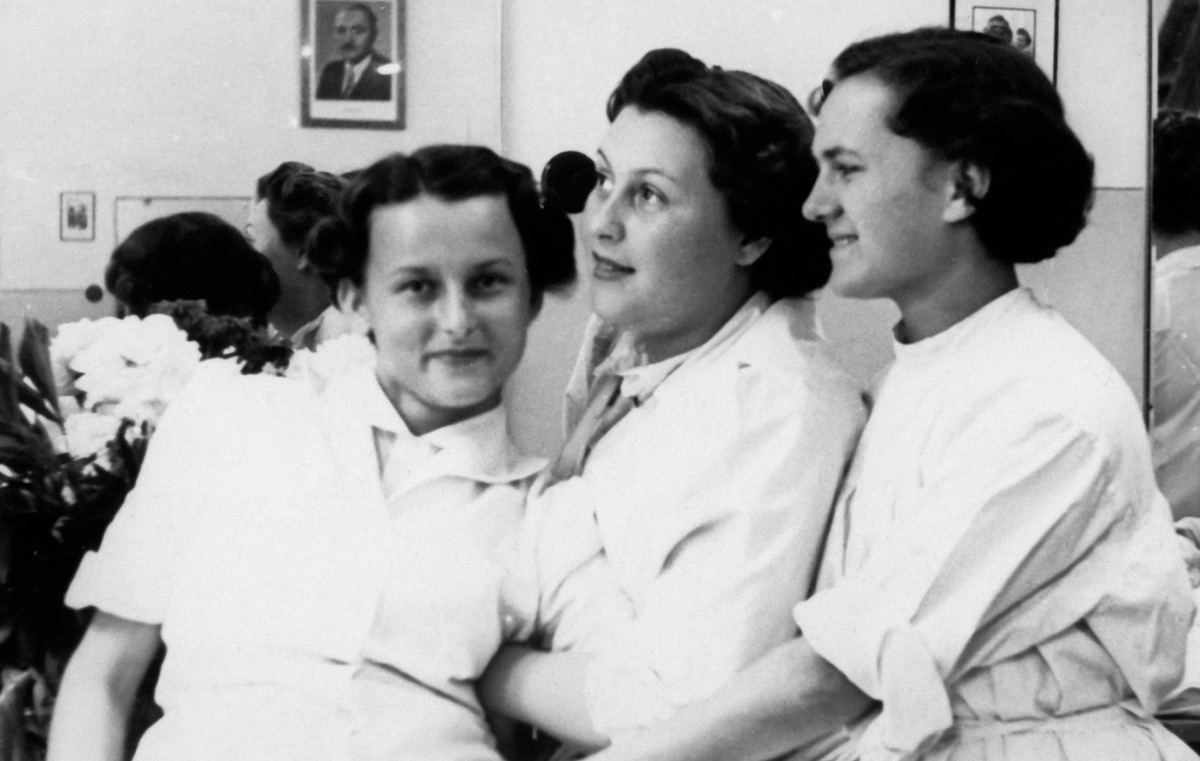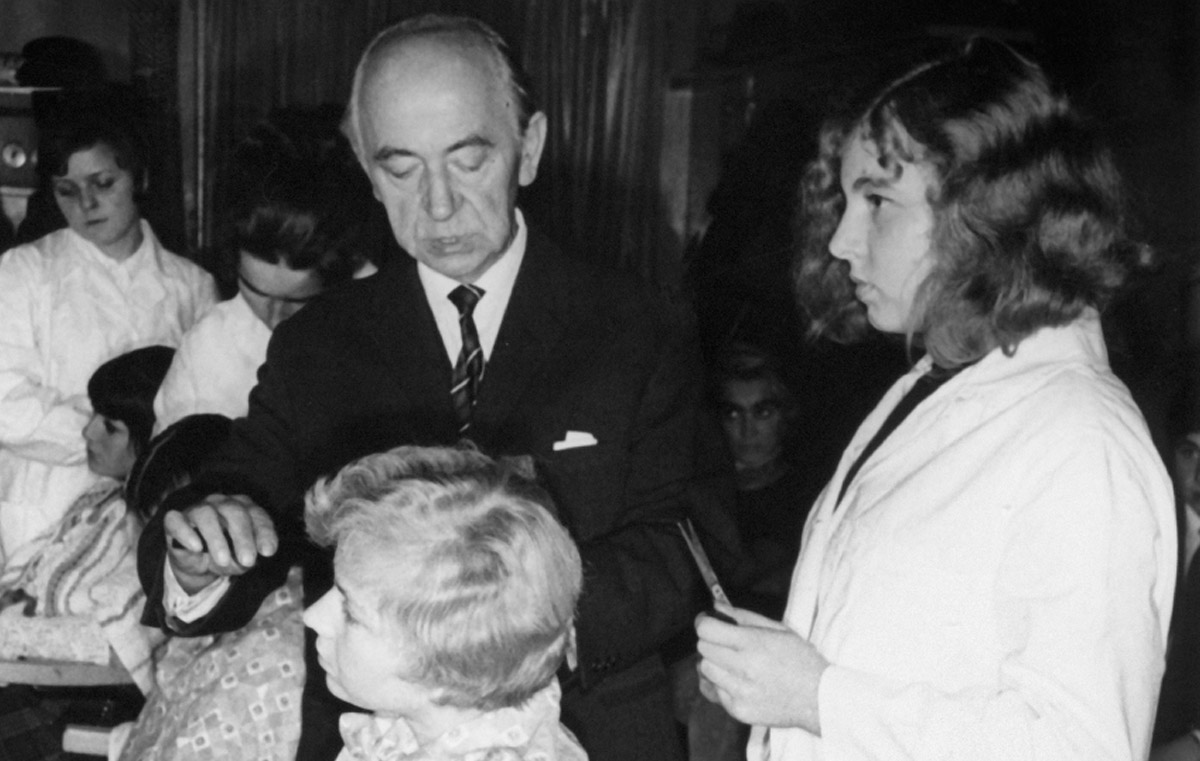 The Fifties
Roman Tatomir during apprentice trainings in the salon at 5 Gołębia Street. He was a calm and cool-headed man with great manners, well-known in the pre-war years. He was knowledgeable and massively creative which he could pass on to others. As a teacher, he was understanding and patient. He was also curious about the world and every journey served him as a source of professional inspiration.
Roman with his wife, Adela, and team in the salon at 5 Gołębia Street. In these times, it was one of the best hairdressing salons in Cracow. The whole artistic and intellectual society of the city had their hairdos done at the Roman's. The Salon was a place of social meetings – this is where artisans, artists and professors held their discussions, where the city's elite met, and where new social relationships were established. The visits at the Roman's were often concluded with a round of bridge, chess or intellectual discourse.
The Sixties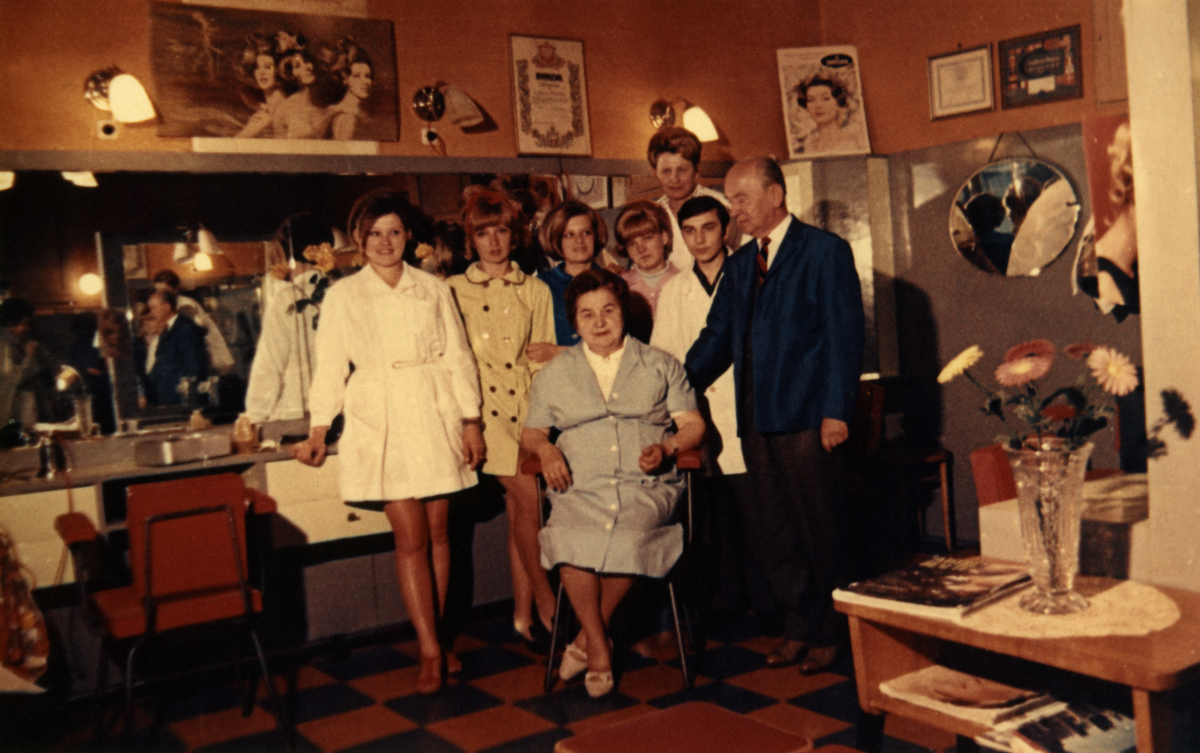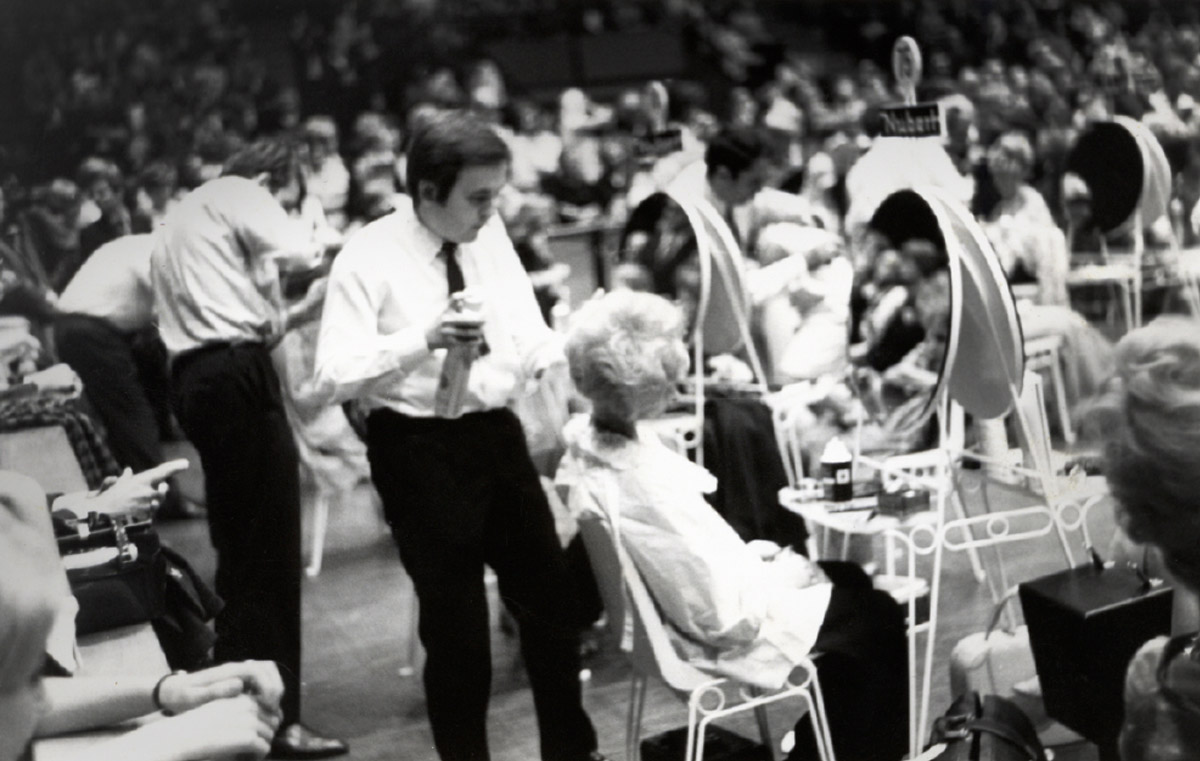 1964
Roman's son, Jacek Aleksander, moves to France. His amazing hairdressing adventure is about to begin. In Paris Jacek gets to know the great Antoine Cierplikowski who will become his master. To discover Antoine's story, go to Video. On the picture Jacek Aleksander during one of many prestigious contests he participated in.
Adelajda Tatomir, Roman's granddaughter, for the first time is looking at Paris which will soon become her beloved city. She went to the capital of France at her paternal uncle's, Jacek Tatomir's, invitation in order to learn from the best hairdressers in the world. It is in Paris, at Rue Royale, next to the Parisian house of L'Oréal, where her dream of a beautiful, big salon in the centre of the Old Town in Cracow arises. Adelajda observed elegant French women and noticed, more and more clearly, the beauty of Polish women, whose radiance was dimmed by greyness and poverty of the Communist times. She decided to shorten the distance between Paris and Poland and give Polish women opportunities they had not had so far – the chance to access professional beauty care.
1972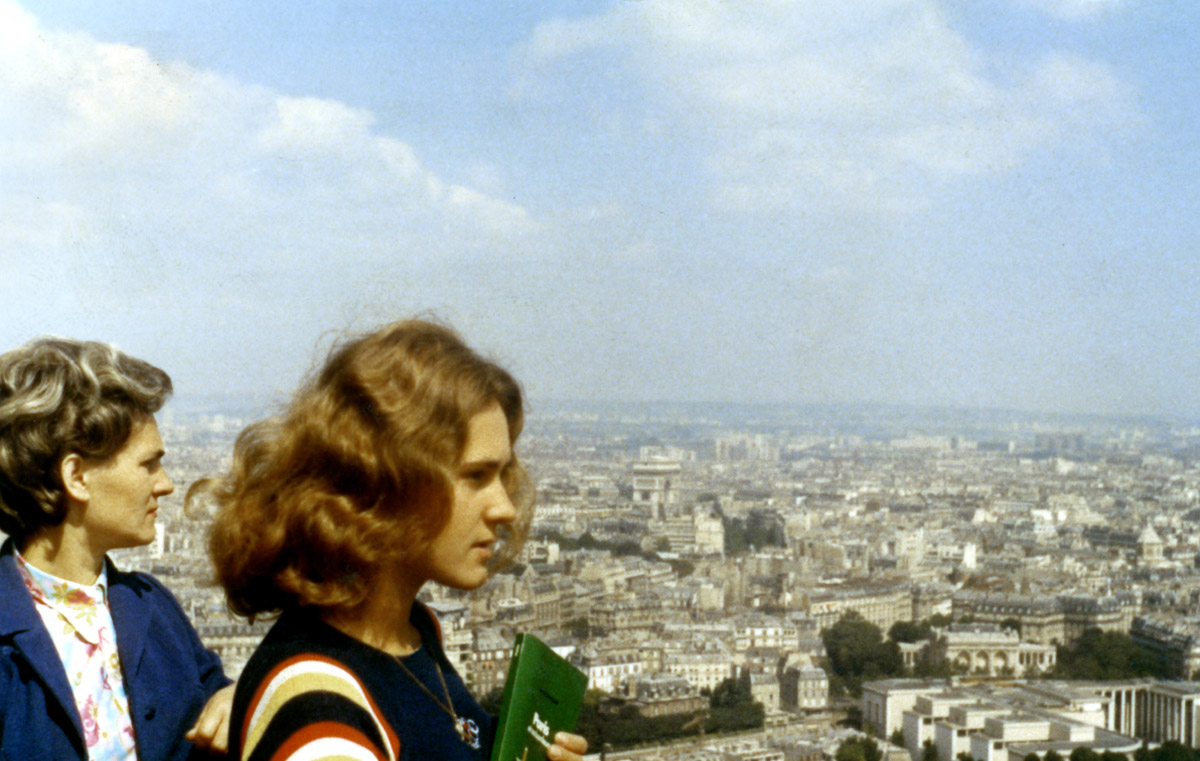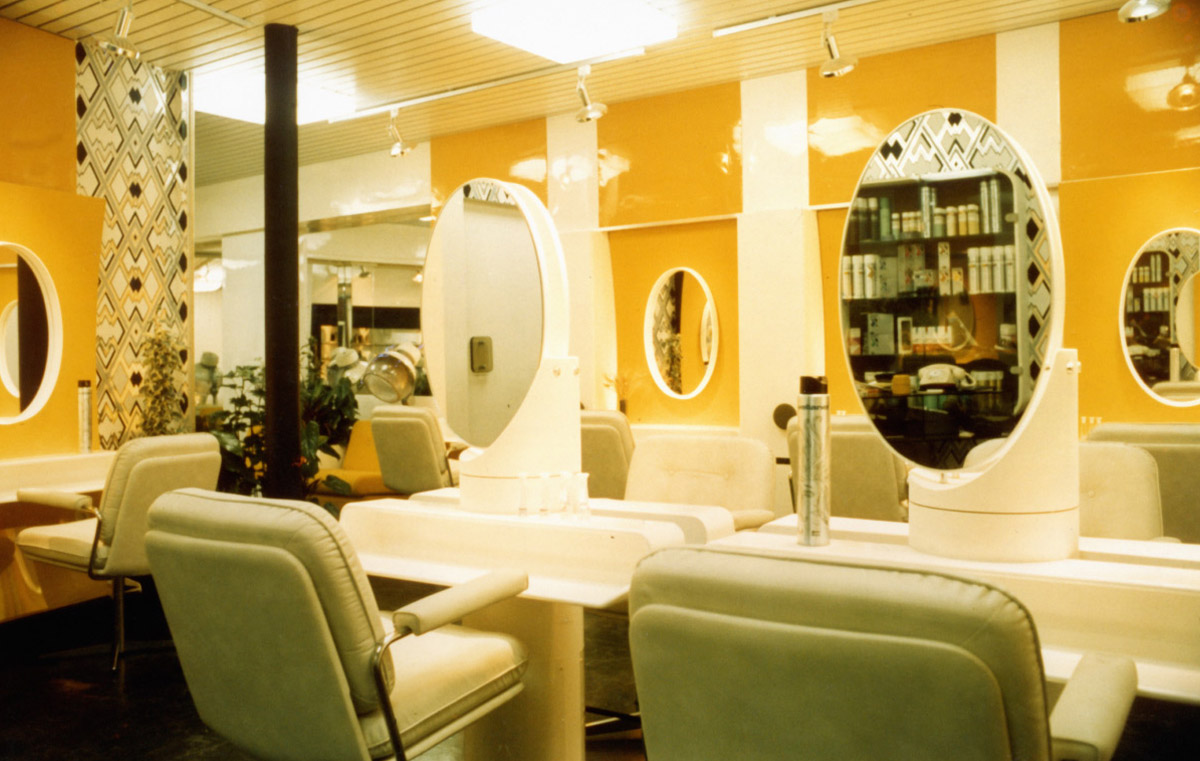 The Seventies
On the picture the salon of Jacek Aleksander (known in Paris as Jacques Alexandre) at Rue de Royale. This is where Adelajda first experienced the professionalism and beauty of the haute coiffure. By this time Jacques becomes a member of the HCF. After meeting the hairdressing crème de la crème Adelajda changes her vision of the world and her profession.
A hairdressing show in Dom Turysty at Westerplatte Street in Cracow. It was the first show for the Polish audience after Adelajda's return from Paris. The show was an opportunity to present the most recent trends and hairdressing techniques, as well as the artistry skills gained in Paris. It was a breakthrough in the hairdressing art of those times – Ada showed, among others, brush-styled hairdos, which were an unprecedented novelty at that time.
1976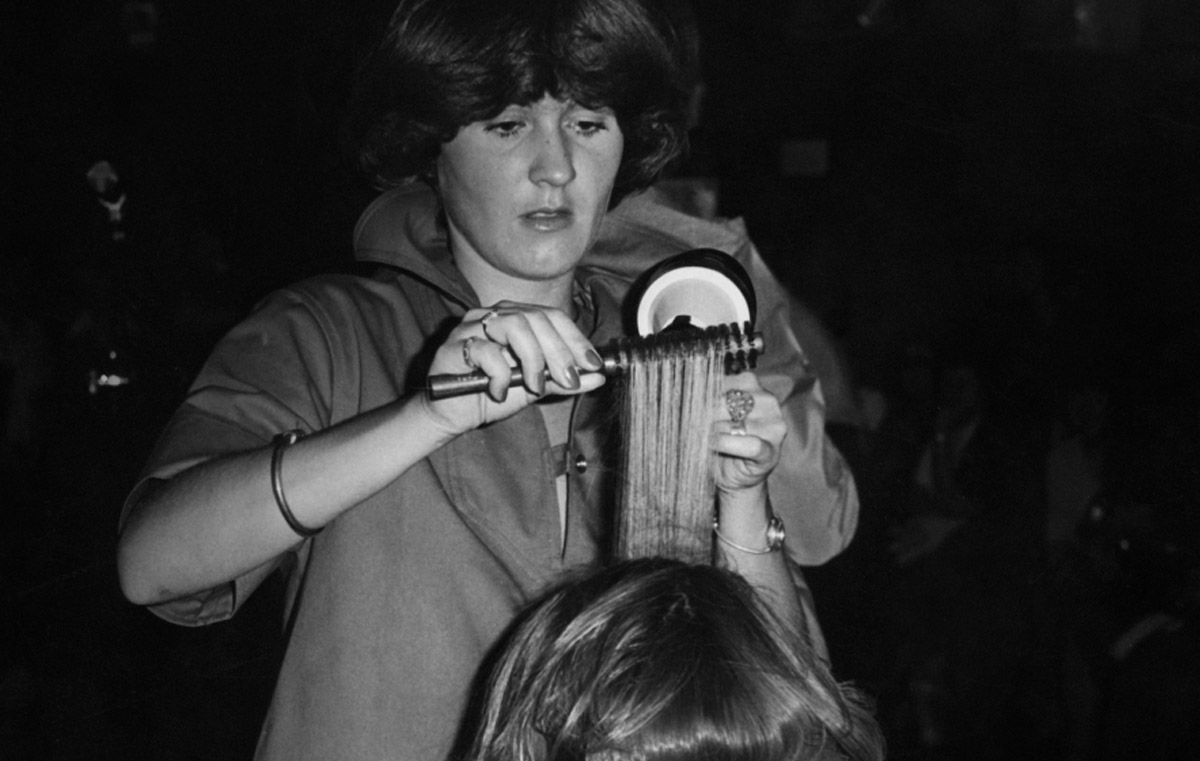 1977
Ada Tatomir at the Roman's at 5 Gołębia Street in Cracow. She took over the salon after her grandfather's death. At that time, the tradition of making reservations did not exist. Salon prided in such a good opinion, that the number of clients exceeded Ada's capabilities. Women waited for hours, and sometimes even for days, to have their hair styled. The interest in Salon Roman was so tremendous, that some clients waited for Ada on her way to work in the Planty Park, in order to make a reservation for one of the first availabilities. At that time, a permanent afro became voguish, so the corner of Wiślana and Gołębia Street smelled like hair perm liquid. Today, we sometimes call it "aroma marketing", just for laughs.
One of the next training shows for hairdressers from Poland. Soon afterwards, Ada, as a Hairdressing Master, became examiner in the Craftsmen Chamber. She examined hairdressers during their bachelor's and master's degree exams throughout the next 20 years.
The Eighties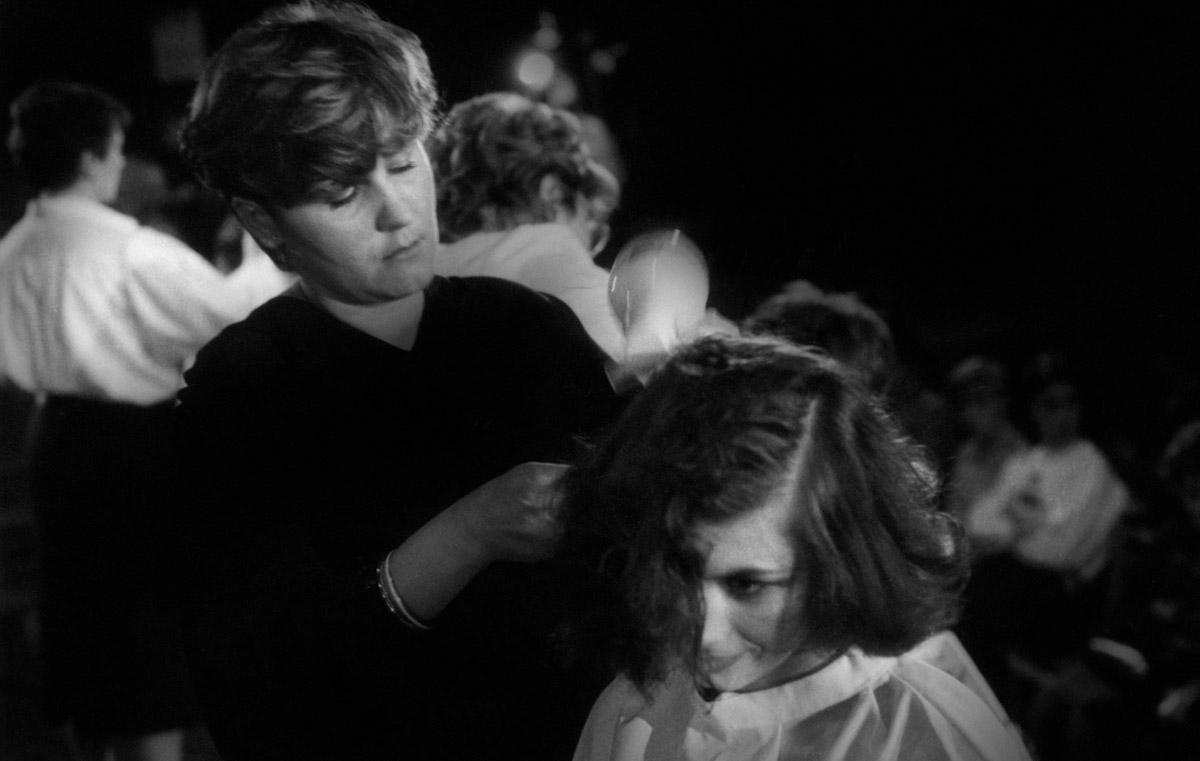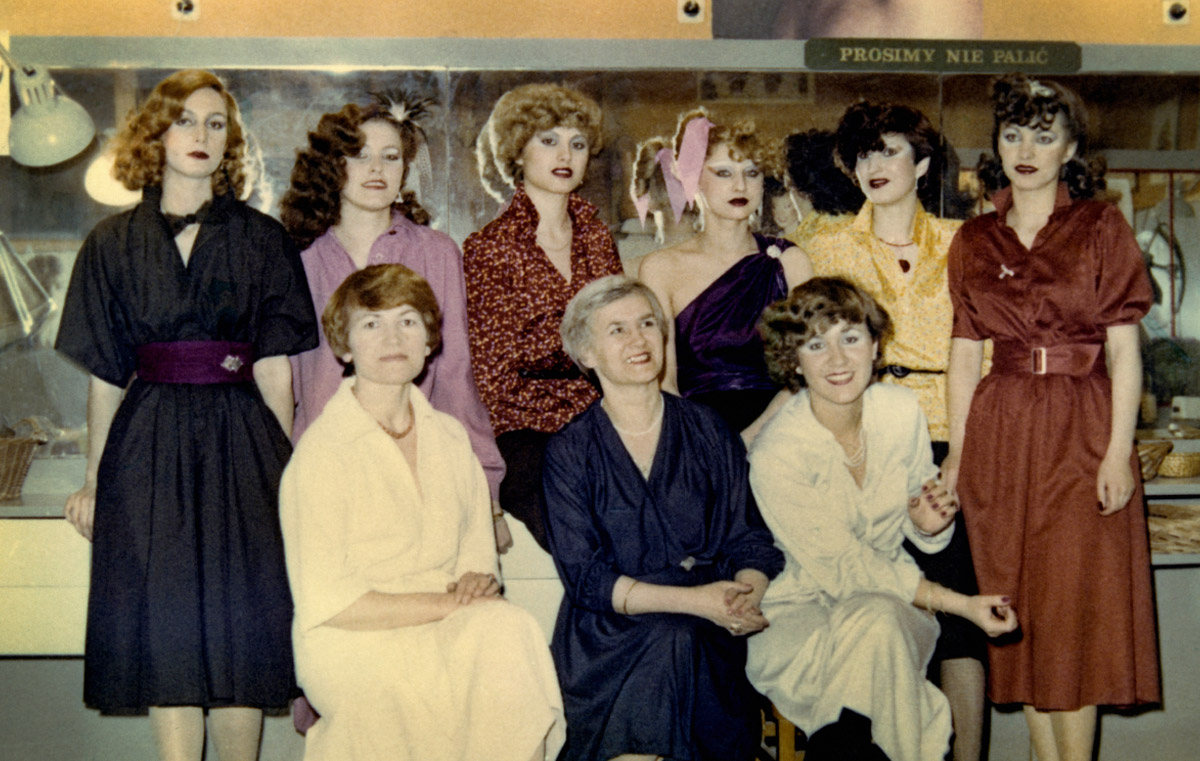 The Eighties
A photo taken by the Salon at Gołębia Street after a training show and a collection presentation in Bagatela Theatre. In the picture – Ada with her mother, Kazimiera, aunt and models. Both Ada's mother and the mother's sister were hairdressers. Among the members of the closest as well as more distant family, there were and still are several hairdressers. The family discussions always included subjects of beauty, art, creation, which swamped consecutive generations of the family up to a point where limitation was imposed on hairdressing talks during holidays and a very strict schedule of professional talks was established. The family members knew that it was the only way to prevent the hairdressing discussions from lasting forever.
A training show at Słowacki Theatre in Cracow. Ada is growing the need to extend her hairdressing activities outside the Salon. She wishes to share her knowledge and experience. Together with her paternal uncle, Jacek Tatomir, she dreams about introducing to Poland a wide array of L'Oréal Professionnel products and presenting their quality to the Polish hairdressers. This is exactly when, thanks to Jacek Tatomir's initiative, the association of Haute Coiffure Française begins its activity in Poland. Salon Roman, whose hairdressers take part in numerous artistic endeavours of HCF, such as photo shoots and shows, joins the Polish branch of HCF. And so begins the time of journeys and trips to Paris to Carrousel du Louvre for the annual Haute Coiffure shows, which create tendencies for subsequent seasons of each year.
The Nineties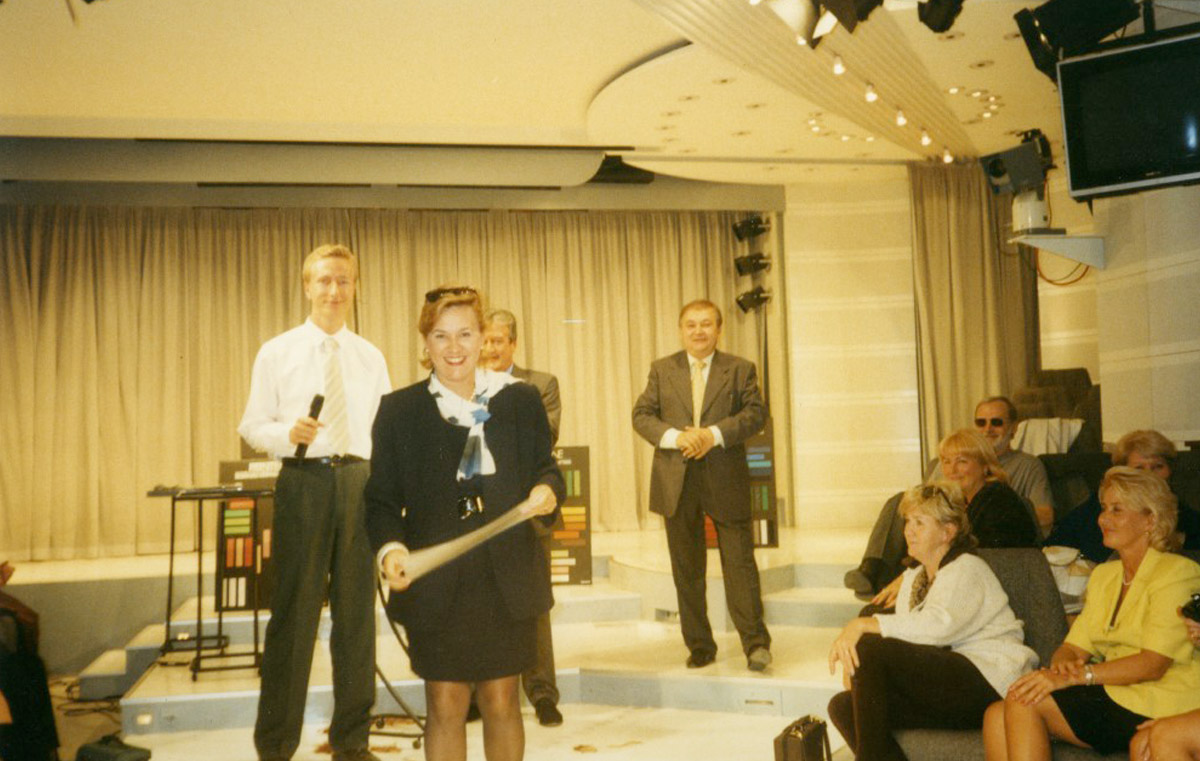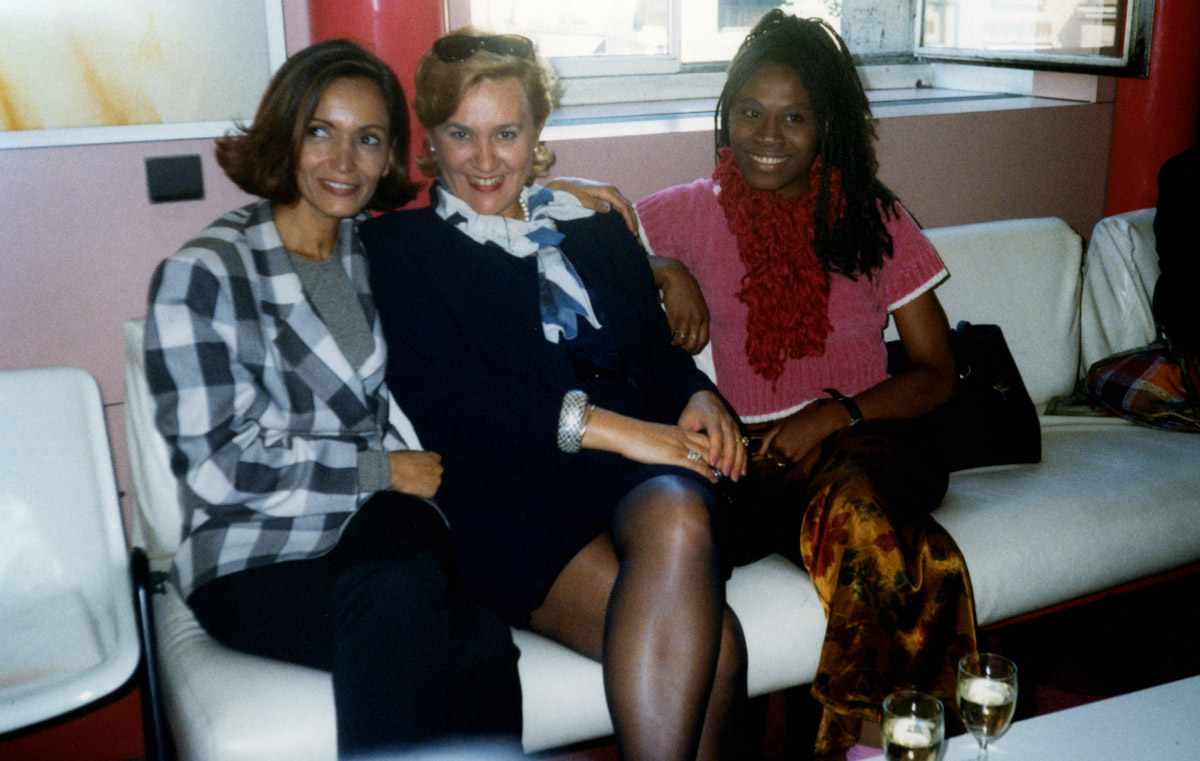 1996
During one of the trips for the annual Haute Coiffure Française meetings, Ada meets Laetitia Guenaou, a great personality of the hairdressing world and L'Oréal Professionnel's ambassador. Laetitia's work, her professionalism and the way she passes her knowledge onto others move Ada deeply. Laetitia's shows give Ada moments of massive emotion and admiration for the beauty of what the French Master creates. Ada starts dreaming of cooperation…
In a new Salon at 1 Gołębia Street, where Hair & Beauty ROMAN is located up till now. In the Nineties, the company thrives and its blossom is spectacular. Relocation from a small salon at 5 Gołębia Street to a new seat allows the company to offer its clients a totally new, unprecedented at that time quality and a unique comfort. During those days, two more salons are established at Bracka and Krakowska Street. After a few years, Ada, together with her son, Bartłomiej, who starts managing the company, makes a decision about centralising and enlarging the Salon. The company grows, a Kérastase Institute and two separate areas for men and women are brought to life.
The Nineties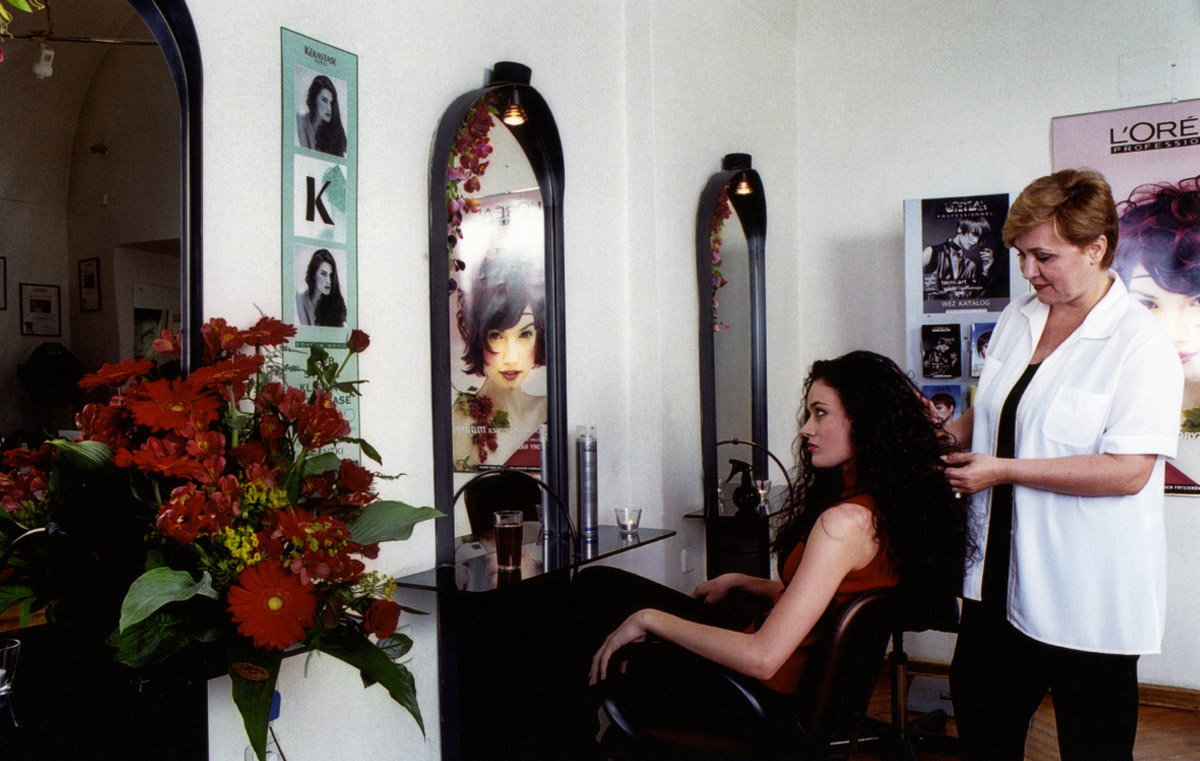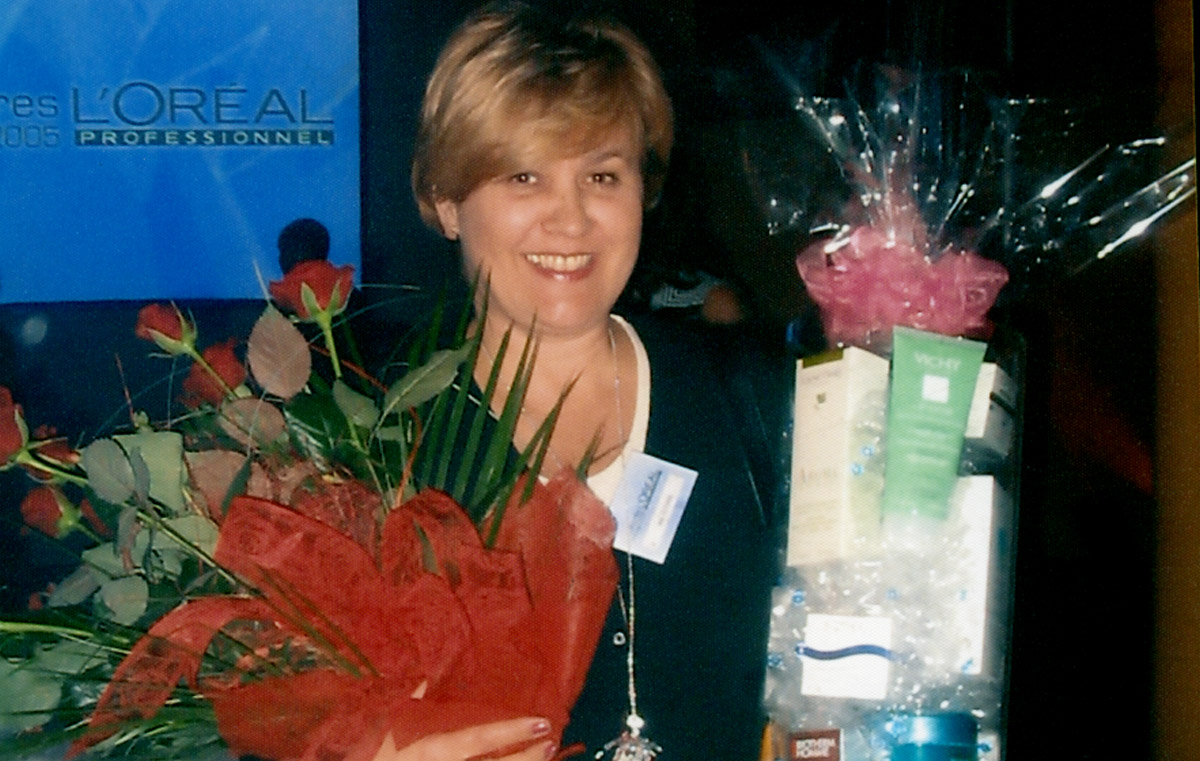 2005
The first Kérastase Congress at the Belvedere Hotel in Zakopane. Ada receives an award for the best, professional hairdressing salon in Poland. It is the culmination point of her professional endeavours so far and a great honour to her incessant attempts to provide world-class, high-quality hairdressing and customer services in Salon Roman.
Dreams come true! Laetitia accepts Ada's invitation to Cracow. Their common projects are launched under the name of Atelie de Precision. A number of hairdressing trainings take place. The hairdressers from Poland have a unique opportunity to learn from Leatitia herself and other world-class hairdressing masters. Laetitia also moves to Atelie her work on the yearly Dossier Press, which are published on the covers of the most prestigious fashion magazines in the world.
2006
2007-2013
The result of exceptional trainings and the fruit of Ada's and her team's huge effort is a series of outstanding hairdressing successes of Salon Roman. Their biggest achievement is winning all the prizes at the Parisian HCF: 1st prize in 2009 for Agata Kociolek, 2nd award in 2011 for Anna Antos, and 3rd prize in 2013 for Jadwiga Bugaj. Successes abroad go alongside national achievements: 1st prize for Agata Kociołek in the Color Trophy competition in 2008, 2nd award for Jadwiga Bugaj in the same tournament in 2007 and a place in the finals for Jarosław Pudełek during the same year. In 2011, Sabina Koczwara enters the finals of the Inoa Trophy competition. Roman's hairstylists become Kérastase ambassadors and Jadwiga Bugaj and Mateusz Wicek win the 1st prize in competitions dedicated to the knowledge about the brand.
A backstage photo from one of the photo shoots to Laetitia Guenaou's Dossier Press – "Fait Main". The artistic work gives hairstylists a great deal of professional satisfaction and has a positive influence on the team's integrity. Moreover, spending time with such a creative person as Laetitia shows possibilities and inspires to seek creative resources, whose existence we are not always aware of, inside ourselves. It promotes a totally new perception of the hairdresser's work and stimulates professional development. It also teaches how to share one's passion with others.
2012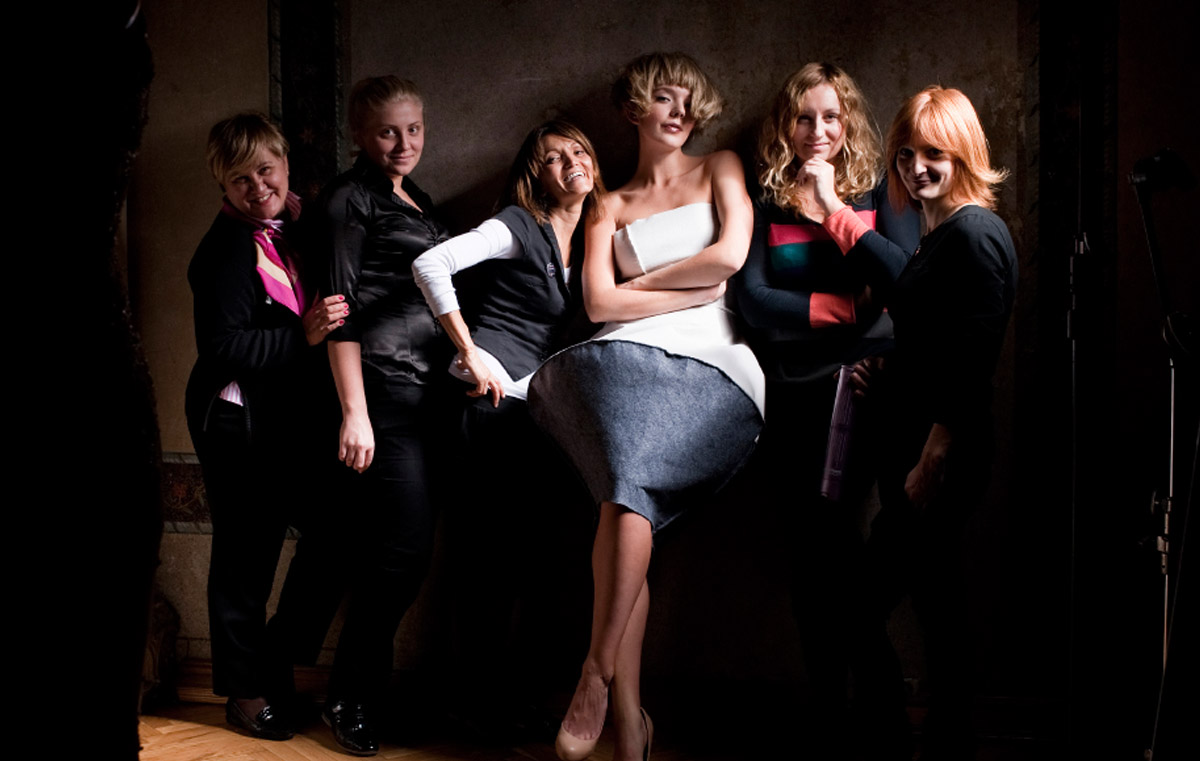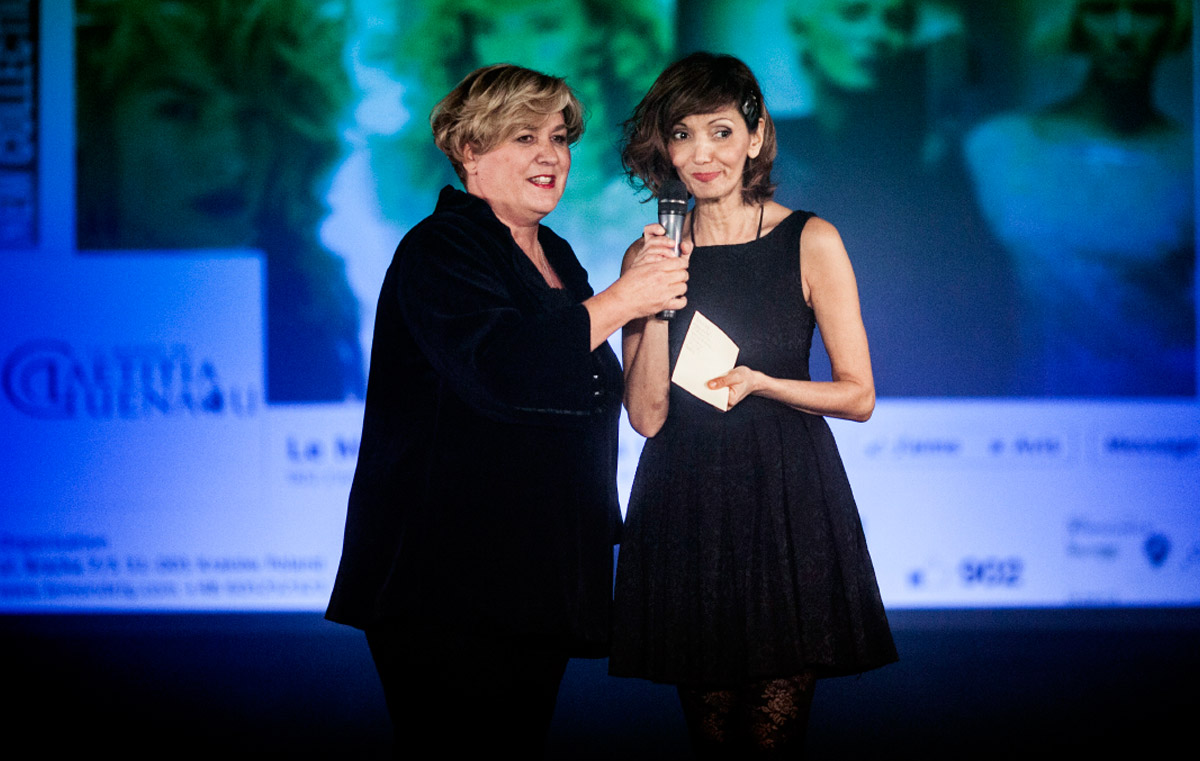 2013
Salon Roman and its team continue their outstanding development. New initiatives of Ada Tatomir and Laetitia Guenaou come to light. Le Monde de Laetitia Guenaou is their brand new project. It is an association of prominent hairdressing salons, whose owners and employees treat hairstyling not only as a job, but also as a real passion and a constant artistic challenge. Annual Master Show, organised in Cracow by Ada and Laetitia, become a stable event in the world's hairstyling and fashion agenda. In the picture, both hairstyling masters during one of the recent Master Shows.
The latest history of Hair & Beauty ROMAN is a continuation of the successes which began in 2007. Our master hairdressers keep their skills cutting edge and their successes are accompanied by the victories of the younger generation of stylists. The most important accomplishments of our team in the last years include two 3rd prizes in the Color Trophy L'Oréal Professionnel competition: Jarosław Pudełek in 2014 and Rafał Grabiec in 2015, and a double victory in the Couture Styling Kérastase contest, also achieved by our gentlemen. This time the highest distinction was received by Rafał Grabiec (2015) and Dariusz Sochacki (2016).
2014-2016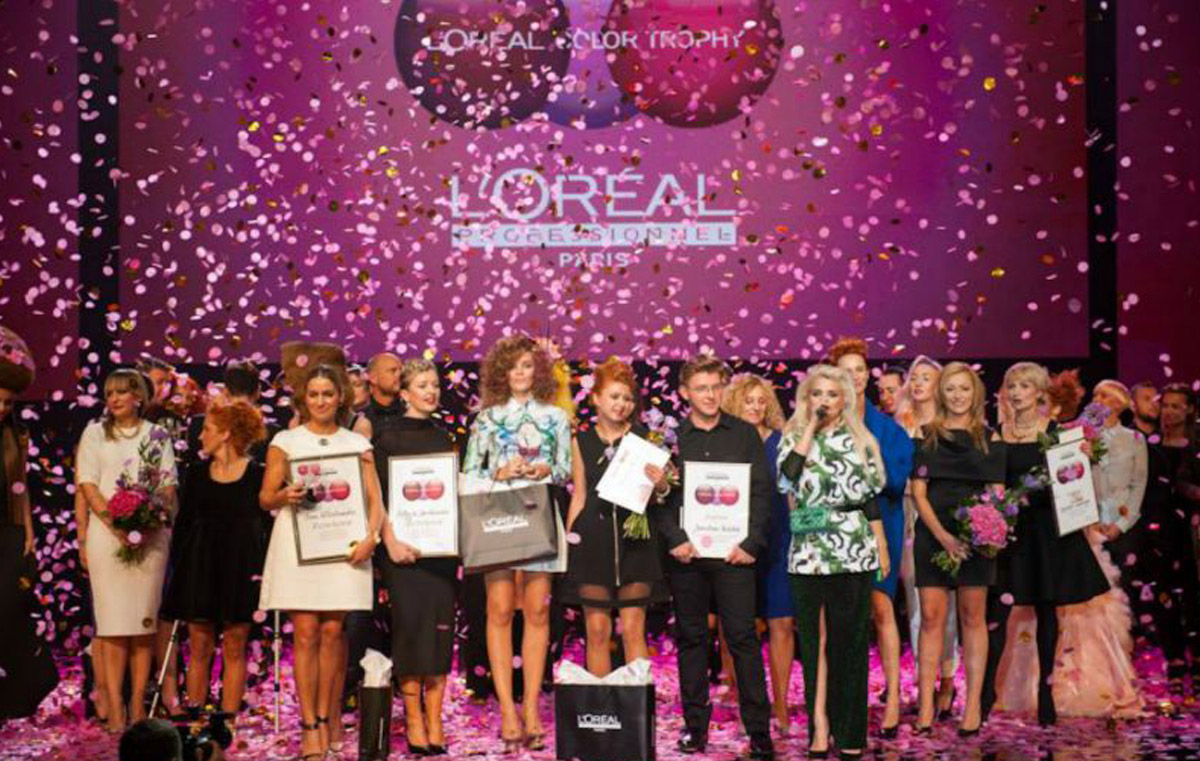 2017
Welcome to world of Hair & Beauty ROMAN. We invite you on a journey into 90 years-long fascinating history of our hairdressing family.